September 18, 2020
Are you a trade school student or new graduate in Connecticut looking for your next internship or job opportunity? Career fairs are a great place to start. In 2020, many networking events and career fairs are being held virtually instead of in person. Don't let the online setting discourage you from attending! There are still plenty of ways that you can have a valuable experience at a virtual career fair and make connections to
jump-start your career in the HVAC and Bioheat® industry.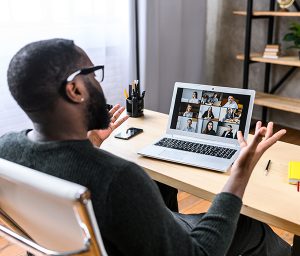 ---
Tips for Attending Virtual Career Fairs in 2020
If there is a virtual career fair at your school or in your town coming up, use this checklist to prepare.
1. Create Your Profile
Since you won't be able to make a first impression in person, your profile will be the first thing potential employers will see. Make sure you use a clear, professional photo and include a write-up that showcases your skills and qualifications. Keep your profile description short and to the point, and feel free to add in something personal, like why you are pursuing a trade career or your favorite class from last semester.
2. Don't Forget about Your Resume
Your resume is a critical part of your career-fair profile. Make sure you upload a Word doc or PDF of your resume that lists your certifications, skills, coursework, and any other job-related experience.
3. Sign up for at Least Two Sessions
If the virtual career fair you are attending is offering webinar sessions, make sure you sign up for at least two. It might seem easy just to participate in the virtual networking and call it a day, but you want to take advantage of every opportunity that you can! You'll be able to hear from potential employers and interact with them, too.
4. Test Your Technology in Advance
Before the actual day of the virtual career fair, it is a good idea to do a test drive. If you are attending Zoom calls or other virtual video conferences, make sure your computer speaker and camera are working properly.
5. Dress to Impress
Even though you are networking from home, it is still important to dress like you are attending the career fair in person. Wear something professional and comfortable so that you feel confident during any video conferences. It's a good idea to set yourself up in a well lit, quiet room with a neutral backdrop.
A lot of things are different this year, but that shouldn't slow down your career goals. The HVAC and Bioheat® industry is looking for qualified candidates now. Positions like fuel delivery driver, service technician, and customer service representative give the unique opportunity to join the workforce and start earning money right out of trade school. Plus, there is significant job security for members of the essential workforce. If you haven't already, create your free profile on Generation NEXT Energy Pros to start connecting with potential employers in Connecticut today.